LUMIX GX8 Long Term Review
When I first wrote about the LUMX GX8 about a year ago, I noted that it was the follow-up to the wonderful GX7 (which we now know it is not) and that it was big (which for Micro 4/3 it is) but image quality is good (it is) and that I enjoyed shooting with it (I did).
As I worked through my initial reactions, it actually took me about six months to understand the LUMX GX8 and a year to really appreciate the camera. After a year's worth of shoots and many conversations with my friends at Panasonic, I feel that I understand this unique camera and am sharing this with you in my LUMIX GX8 long term review.
It's one thing to casually work with a camera, but it's a whole different experience to work with it on an assignment. As my first assignment, I traveled to Portland to meet up with Andrew from Fiilex LED to work on a project documenting a brewery and a mountain biking club, stopping into ProPhoto Supply to purchase a black GX8. I had a two-toned silver one already, but I loved the subtle, minimal beauty of the black version. Little did I know, but a day later I was going to catapult my beautiful, black GX8 with Nocticron from my 3 Legged Thing about twenty feet onto a rock. To my surprise and delight, both the camera and lens worked, though I eventually had to replace the Nocticron since it bore the brunt of the impact.
👉🏻 Checkout my 3LT Review
Body and Handling
On assignment, I like to work fast, but what I don't like to do is fumble with a camera. As I began to really work with the GX8, I found that the size of the camera was an advantage, but for how I work, it needed a bit of help. If you ever worked with a GH4, you'll notice how damned comfortable a camera it is for its small size. The grip on the GX8, however, is a bit sharp on edge where your fingers wrap around to the front of the body. I believe this choice is more form than function as it appears to be shaped for someone that might have their human hand replaced with a giant lego hand. Additionally, the strap eyelets push into my right hand which I find to be uncomfortable. They definitely look strong, but with small cameras, such a robust strap eyelet might be overkill. This is really a design challenge of small cameras. How do you make a small camera that's also comfortable to hold while being durable? I can't imagine it's easy.
Another challenge with small cameras is button placement. Make the buttons too big and the user's hand will trigger them by accident. Make the buttons too small and they're hard to find when operating the camera. When working with small cameras, I find the problem to be the latter and the LUMIX GX8 is no exception. My solution to both the strap eyelets and the short buttons was to break some things and build some things. **NOTE - this solution could possibly void your warranty** I began by breaking off the strap eyelets and with a package of Sugru I filled in the holes where the strap eyelets remained. Next, I used the Sugru to build up the surface of some buttons and to soften the edge of the grip, making the camera overall more comfortable and easier to operate for how I like to work. I want to make clear that this is a one-way street here so if you mess up you could ruin your camera. Be damned sure you want to do this before you do.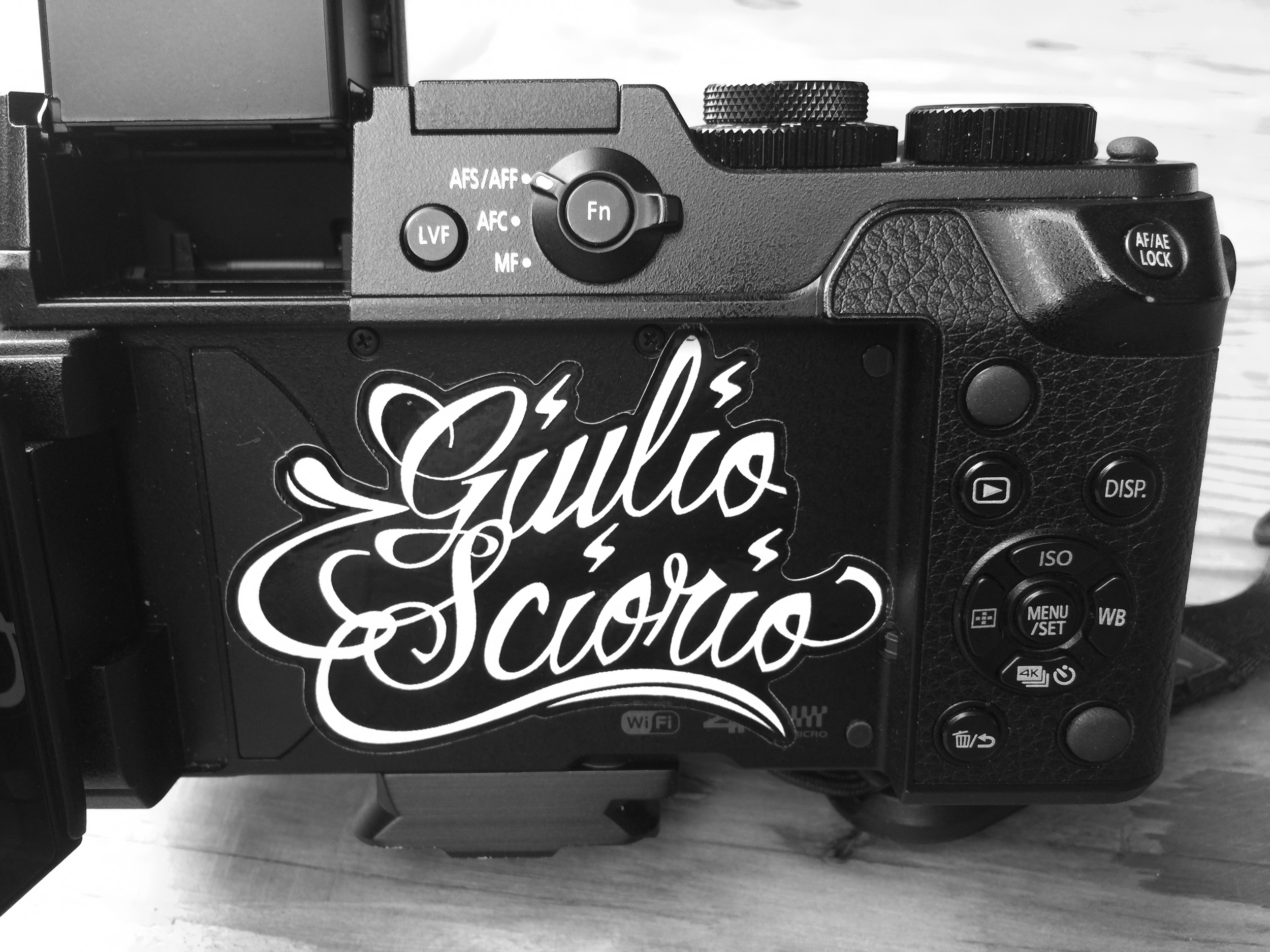 A much simpler solution is to purchase the Panasonic leather half case which will soften the grip. I have the leather half case and it's quite nice but I wanted something more permanent so I went with the above solution.
EC3 Eye Cup
The EVF with the GX8 is awesome. It's my single favorite feature of the camera and quite frankly, if the GH4 had it, that would probably be my perfect camera. I think every mirrorless camera should have a tilting EVF. Actually, every EVF should be fully articulating like the LCD screen on the GX8 which is also wonderful. I found that shooting through the EVF while using the eyecup extender DMW-EC3 and using the LCD as a trackpad for focusing to be super helpful for both autofocus and manual focus. The DMW-EC3 works great with both glasses and without. It does stick out a bit but the rubber is soft yet durable. After a year's worth of abuse the DMW-EC3 has yet to show signs of wear. Because of its size however, you might find that dust gets in on the EVF a bit more than without, but taking off the eyecup is fast and easy to clean.
Lenses
Between native (60+) and adapted lenses, there's no end to the lens choices for Micro 4/3 which is probably the biggest asset of the system. That being said, I keep my choices fairly slim with the LUMIX GX8 to focus on the lenses I enjoy using most often and keeping the quality as high as possible. With lenses, quality is definitely better than quantity. While it's fun to nerd about cameras, the reality is there's a new body about every two years. What really makes a difference and where you should put your the majority of you gear budget is into glass. Good lenses not only increase the quality of your image overall, they can add unique character to your work and they'll last several generations of bodies. Everyone is going to have their favorites but here's mine:
Panasonic 12-35/2.8
Everyone one needs a good zoom and this should be at the top of your list. The corner to corner sharpness is among the best I have experienced with a zoom you get a constant f/2.8 aperture, weather sealed body (the GX8 is also weather sealed), it's parfocal and shares a 58mm filter thread with it's companion lens, the 35-100/2.8.
Speedmaster 25/0.95
Love this little lens. I was skeptical when I picked this lens up at Photo Plus Expo last year but it remains one of the best purchases I have made in years. It's a fully manual lens with step-less aperture ring, built out of solid metal and glass, plus it's very small. Size wise its about the same size as the Leica Summilux and yet the aperture opens up to an amazing f/0.95. While wide open it's a bit tricky to focus due to ultra thin DOF stop down a bit not only will it be easier to focus, you'll get a super sharp image too. Keep in mind that the performance of this lens is all done optically whereas a modern lens has a built in profile which your camera and raw processor will take advantage of. That said, I love the character of this lens. A must have.
Leica Summilux 15/1.7
When I don't want to bother with manual focus yet want small and sharp, this is my go-to. With a unique focal length, it took me a while to warm up to the Summilux 15, but once I got familiar with the character of this lens I fell in love. It's small, light and has super fast AF plus the built in aperture ring is handy to have. Also to note is the included (see this Olympus?) metal lens hood which looks good but also is quite functional. Usually when I use this lens with the GX8 I don't use the lens cap and just toss the camera with lens on in my bag. It might not seem as such but this little lens can take a beating.
Leica Nocticron 42.5/1.2
One of the finest portrait lenses I ever used hands down. It's big, it's awesome, it's just a badass lens of the highest caliber. Some people complain that it's large which I don't quite understand. The Nocticron has lighting fast AF with both still and video, built in AF and it's corner to corner sharpness wide open is second to none. If a lens is going to be sharp corner to corner, the glass has to overlap the image sensor by quite a lot. Those that own one understand: if you want killer portraits, this is the lens to use.
Other lenses to consider
On occasion, I'll use the Panasonic 35-100/2.8 which is wicked sharp and a good alternative to the Nocticron, especially if you're working in the rain or in a dusty environment. It's weather sealed and as I mentioned above, the filter size is the same as the 12-35/2.8, so you're saving money and space on filters, plus it's also parfocal.
I am really looking forward to the Leica 12/1.4, though. I think this lens will be a must have for most people and working with an early prototype, I can attest to the quality of the lens. It's similar in build quality to the Nocticron while also being a bit smaller.
If at some point Panasonic works with Leica to release a 25/1.2 with AF, I'll probably stop using my Speedmaster, but for now that lens is what's on my GX8 the most, although I think Leica 12/1.4 might become my most used lens. I worked with the Olympus 12/2.0 for about 50 assignments, and while I liked it I found it to be soft wide open and the DOF scale was so inaccurate it was unusable.
Photography
All of the above means nothing if the images suck or if you're not out pushing the camera to its limits. While I don't feel I fully pushed the GX8 or myself to the limit (how do we ever really know, right?,) I have had what I consider a spiritual experience using the GX8. While that last sentence might sound like complete bullshit let me explain: Last year was probably one of the most challenging years in my photographic career. March of 2015 was my ten year anniversary as a professional photographer (although I've been shooting since the 90s) and in looking back at my work, I realized that for some time, about three years actually, I was not fully self-expressed as an artist. I got into the business of photography because I could not help to do anything else. I love photography deeply, but one of the most important things for me as an artist is self-expression. What I had noticed looking back at my work, is that for some time I was not my true self as an artist. I had reached a point in my career that the assignments were not as exciting to me a they used to be (which is normal) but also I was lost as an artist. If my work was not truly me, then who am I?? I stopped everything (other than basic work functions) and made some hard choices with my career, the biggest of which was to go back to basics. To me, back to basics meant choosing one camera and one lens, shooting in monochrome and processing everything in-camera.
In order to find myself, I needed to go back to square one and using the GX8 and Speedmaster, creating my own monochrome look and connecting with my photographic roots I found myself once again. This process not only helped me get back on track with my artistic vision, it took me to a new path in my life as an artist. Some people go their entire lives looking for what I found within six months of working this way. I will add, in addition to going back to basics with my photography, I also made some new self-care habits, like journaling a thousand words a day, taking long daily walks and eating more healthfully, but it all started with the GX8 and Speedmaster. Truly, this experience of transformation is priceless and I feel the work shows.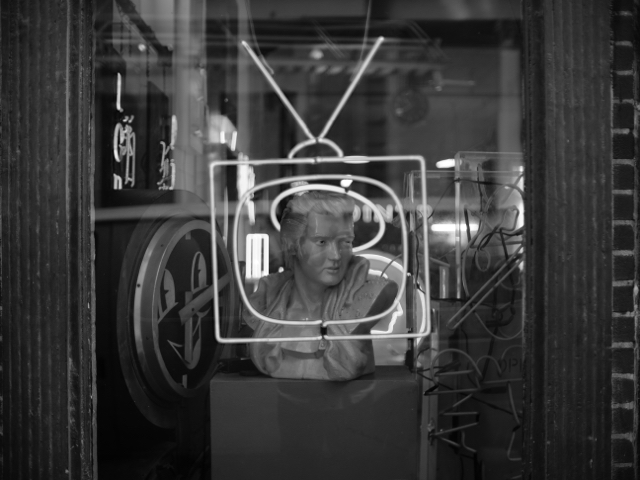 With time and effort, I redefined who I am as an artist and photographer. The work I created during this time is available for viewing in the galleries Redefined and further with Signs of the Times. You can find pixel peeping charts elsewhere, but what my trained eye tells me is that the GX8 produces the finest files I worked with of any Micro 4/3 camera. While the GX85 might have a tuned 16mp sensor, the GX8's 20mp sensor does such a good job with dynamic range and the noise pattern appears randomized giving the look of film grain at higher ISO's which when working in-camera is welcomed. Combined with the lenses above, what I'm able to achieve with this kit makes me quite happy. I get film-like grain when needed and if I want a buttery smooth digital image I can shoot at ISO 100 as well.
What's Next?
What I have not explored as much as like with the GX8 is video. Being focused on finding my photographic self, having two GH4's and that strange 2.5mm mic port all kept me from exploring video up until recently. An easy fix for this is to get a 2.5mm to 3.5mm adaptor (purchased) for audio and go make something or just shoot video without consideration of audio. I'm working on that now, but like a piece of cake calls to my inner fatty, the GH4 calls to me for video. That said, I'm now going to explore capturing with video using the GX8. If I can have a similar breakthrough with motion as I did with stills, the GX8 would forever win a place in my heart. Actually, it's done that already.
Ready to Buy?
Panasonic DMW-EC3 Lumix Eye Cup
Panasonic DMW-CGK33K Genuine Leather Case for DMC-GX8